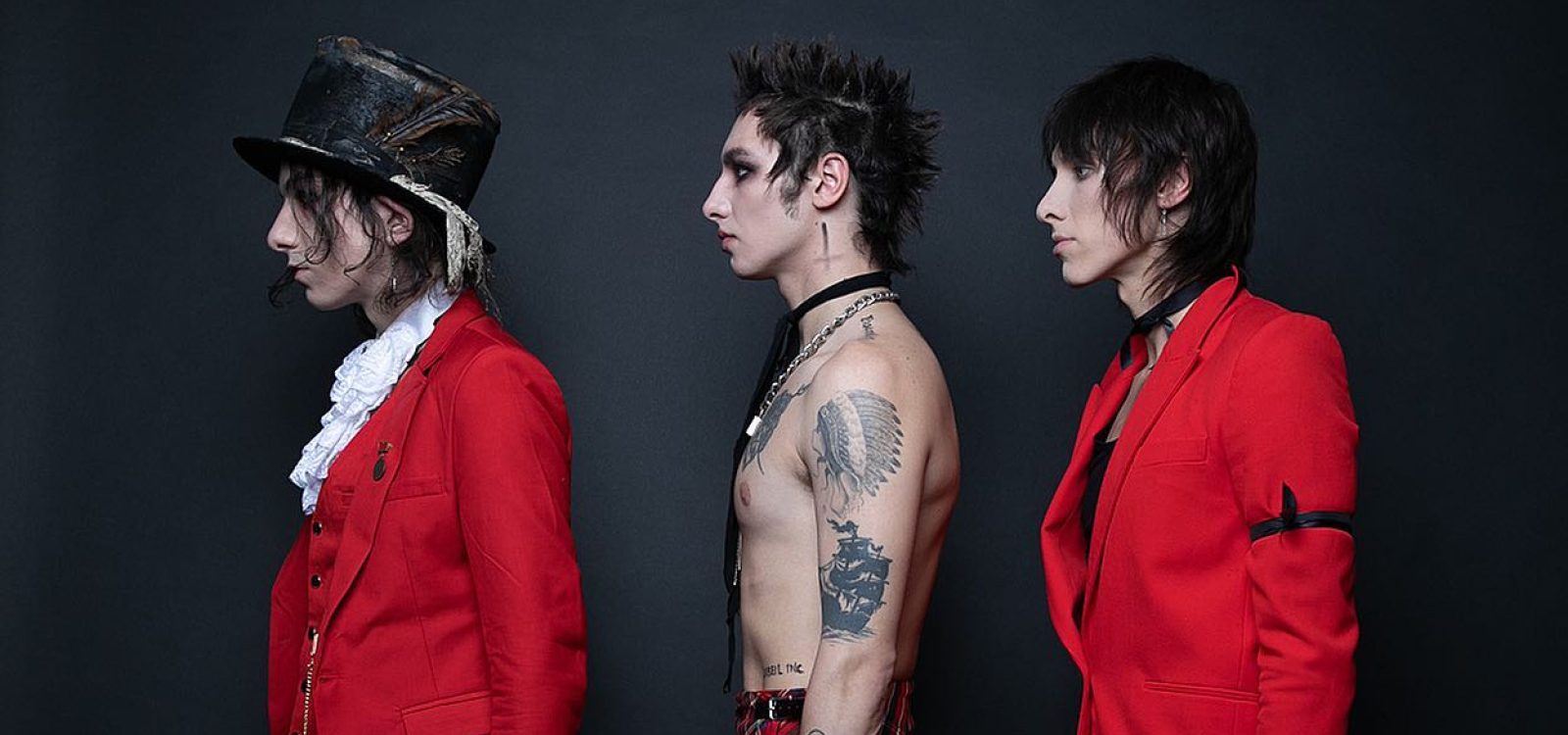 PALAYE ROYALE
Palaye Royale, groupe de Fashion-Art Rock originaire de Toronto, se compose du chanteur Remington Leith, du guitariste Sebastian Danzing et du batteur Emerson Barrett. Le groupe est « indie » dans tous les sens du terme, totalement libre et indépendant dans sa manière de composer ses morceaux, de produire ses propres clips et d'animer ses réseaux sociaux, au plus grand plaisir de ses fans que l'on surnomme les "Soldiers of the Royal Council". Le style théâtral de Palaye Royale sort de l'ordinaire, mais leur musique reste pure et authentique dans l'esprit rock avec quelques influences classiques.
Palaye Royale s'est fait connaître en 2014 avec le titre « Get Higher » qui a été utilisé pour le spot TV du Samsung Galaxy Note. Le clip a été produit et dirigé par le groupe lui-même, tout comme leur second single "Morning Light". Le premier album "Boom Boom Room (Side A)" leur a permis d'ouvrir pour des groupes prestigieux et a ouvert la voie au très attendu "Boom Boom Room (Side B)" sorti chez Sumerian Records en 2018. Le groupe a ensuite entamé une tournée mondiale pour promouvoir ce second opus, avant de sortir en 2019 deux nouveaux single intitulés "Fucking With My Head" et "Nervous Breakdown".
Le trio était sur la scène de la Maroquinerie le 29 février 2020 pour un concert complet et prépare déjà un nouvel album prévu pour 2020!
Vidéos
Warning
: file_get_contents(https://www.googleapis.com/youtube/v3/videos?key=AIzaSyBtTSemeT5bDpTtyGJAW-zM3-shhh_gchg&part=snippet&id=In-q5PCUG3A): failed to open stream: HTTP request failed! HTTP/1.0 403 Forbidden in
/srv/users/serverpilot/apps/verygroup/public/wp-content/themes/verygroup/templates/videos.php
on line
16
Warning
: file_get_contents(https://www.googleapis.com/youtube/v3/videos?key=AIzaSyBtTSemeT5bDpTtyGJAW-zM3-shhh_gchg&part=snippet&id=1LwpcfuvhlM): failed to open stream: HTTP request failed! HTTP/1.0 403 Forbidden in
/srv/users/serverpilot/apps/verygroup/public/wp-content/themes/verygroup/templates/videos.php
on line
16
Warning
: file_get_contents(https://www.googleapis.com/youtube/v3/videos?key=AIzaSyBtTSemeT5bDpTtyGJAW-zM3-shhh_gchg&part=snippet&id=WZ9ALGG11CA): failed to open stream: HTTP request failed! HTTP/1.0 403 Forbidden in
/srv/users/serverpilot/apps/verygroup/public/wp-content/themes/verygroup/templates/videos.php
on line
16